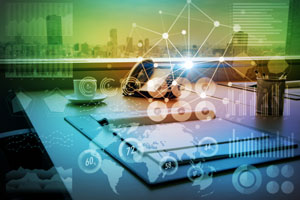 Endpoint connectivity in computer networking refers to a device or node that is connected to the Local Area Network (LAN) or Wide Area Network (WAN) that accepts communications back and forth across the network. A LAN is a computer network that connects local devices together within a limited area, such as an office building or school; a WAN refers to a network that is spread over a large area often connecting cities, states, and even countries. These endpoints are remote computing devices, such as a modem, router, printer, or even a mobile device like a laptop or phone. These devices work with your company's network to communicate important information back and forth. 
Your business runs on your network. Endpoint connectivity and usage is increasing in most businesses worldwide because it provides its users with mobility, allowing network users to access the network offsite. While many traditional network protocols are designed to work with endpoints like laptops and desktops, your IT team still needs to deal with the security and communications happening over the network, even while you're not in the office and directly connected. Because this can be across various platforms with devices or apps that might not be stable or secure, your devices are prone to malicious malware attacks, allowing cybercriminals to exploit your company's network vulnerabilities and gain access to invaluable data and information.   
A communication endpoint can oftentimes be the vulnerable point in your company's expansive network. Endpoints are seen by cybercriminals as an easy and key entry into your network through unseen vulnerabilities. With more and more users increasingly connecting to your network from off-site endpoints, this can make your company more susceptible to cyberattacks or hacks. At Open Tier Systems, our advanced endpoint connectivity security solutions provide protection, while also preventing unknown exploits of your private and secure information and data.     
Open Tier Systems is your all-in-one solution for your Networking needs. We offer simplified solutions to ensure your company is fully protected at all times. In addition to logging any incidents that may occur, we also remotely monitor your network, so we can typically diagnose and resolve issues before they even arise. 
As a leading provider of top-to-bottom IT and VoIP services and solutions for small to mid-sized companies throughout the Greater Philadelphia and Delaware Valley regions, it is our goal to reduce your risk of downtime with uninterrupted services. Schedule a free consultation with us today to find out how our Networking solutions can help streamline the way your company works.